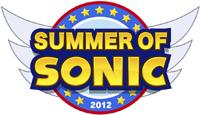 WHAT WE'RE ABOUT
The Summer of Sonic is an event that brings together fans of Sonic the Hedgehog from all over the world. It was a concept that was created by the fanbase for the fanbase, as a way of seeking out and meeting new friends. It has grown so large that it recieves official backing from SEGA Europe, and celebrities involved in the franchise have openly requested to appear.
Previous guests include Yuji Naka, Takashi Iizuka, Jun Senoue, Johnny Gioeli (Crush 40), Richard Jacques, TJ Davis (Sonic R vocalist), Lee Brotherton (Bentley Jones), Julien K, Nigel Kitching (Sonic the Comic), Nigel Dobbyn (Sonic the Comic) and Steve Lycett (Sumo Digital).
2006: THE ONLINE COLLABORATION
Summer of Sonic started as an idea in the mind of Svend 'Dreadknux' Joscelyne back in 2005. The idea was to create a fan-event where like-minded fans can all come and safely get to know one another. With the internet slowly becoming commonplace, and fans spread so wide, it seemed like an impossible feat. The idea was postponed due to a struggle to guarantee an audience turnout, and the lack of funds.
Later that year, small official fan-meetings were held, starting out with a turnout of only 4 people. It was during these continuing, and fast-growing meetups that the idea was raised and given serious consideration. In 2004, nobody would have come – partially due to not being able to guarantee anyone else would be there. By 2006, the community was meeting so often (With up to 50 people per meetup) that the idea seemed more plausible. It was decided then to downsize the idea of a convention, to instead host a 15th Anniversary online celebration. It acted as a portal for community content and collaborative works to be brought to the fore, and raised the name of the Sonic the Hedgehog series and fanbase as excitement buzzed around forums and fansites. Over the summer period, webmasters wrote special articles, fangame creators made one-off projects, countless artpieces were submitted and interviews with Richard Jacques (Sonic R, Metropolis Street Racer, Headhunter) and Sonic Team were published.
The aftermath was an outcry from fans asking for the website celebrations to become an annual event, however it was felt that doing so may have ended up tarnishing the positive response of the 15th Anniversary.
2008: YEAR ONE
Over the course of the next two years, Svend built on the idea with Kevin 'ArchAngelUK' Eva, who was in employment in Sega Europe as Sonic Community Manager at the time. It was through their joint efforts that the first official Summer of Sonic convention was hosted in 2008, in the Dragon Hall Community Centre, Covent Garden in London. It was through the efforts of a small group of dedicated fans that enough money was pooled together to bring in the required finances and resources to make the first Summer of Sonic possible. Through Kevin's hard work and Svend's relationship with SEGA, they were given unofficial backing to allow Sonic Chronicles to be played prior to its UK release at the event.
The Guiness Book of Records: Gamers Edition attended the event, and took down the world record for the Fastest Time in Sonic the Hedgehog 2's Emerald Hill Zone Act 1. World reknowned composer Richard Jacques performed solo to a captive audience before playing a duet list with TJ Davis (D:Ream, Sonic R) and Bentley Jones (Remix Factory, Dreams of an Absolution). Cult comic icon Nigel Kitching, famous for his work on Sonic the Comic, attended to meet with fans and sign comics.
While the hall held only 300, and was packed solid with visitors, all eager to see what the fans had to offer. Summer of Sonic became the first official fan convention for a single game character.
2009: YEAR TWO
In 2009 the event grew to a hall that fit 400+, moving to Brick Lane in London. We had a return of guests Nigel Kitching and Bentley Jones, as well as the introduction of a few stage events that are now tradition – such as Never Mind the Buzzbombers. Kevin Eva upped the ante on giveaways, Svend Joscelyne pushed open the community contact and Jamie 'Discoponies' Williams helped provide us with a running webcam-link for people who couldn't attend. With SEGA now officially supporting the show, the convention managed to operate a whole lot more smoothly.
Nigel Dobbyn (Sonic the Comic) joined Nigel Kitching in the Comics section, giving comic fans twice as much to get excited about, with Steve Lycett and Travis Ryan from Sumo Digital attending to show off and discuss Sonic and Sega All Stars Racing. The relatively small team that worked on Summer of Sonic 2008 had grown to allow for more active gamepods, a stronger technical team and the same strong DJ presence on stage.
A huge effort was made to include fan works of all kinds. Animation group, Sonic Paradox, created a video that was played on the stage, along with an introduction animation from popular creator Boozerman. The Red Hedgehog animation team had a special Summer of Sonic broadcast too, and an art contest was held to see who had the best drawing prowess. A cosplay contest gave fans the chance to dress up as their favourite character, while SEGA gave attendees a chance to play Mario & Sonic at the Olympic Winter Games and Sonic & SEGA All-Stars Racing ahead of release. A special booklet, in the style of a Sega Mega Drive game manual, that contained artwork from past and present Sonic games was handed to each guest.
2010: YEAR THREE
In 2010 the event was forced to grow larger again, and as such was moved to The Pavilion in Shepherd's Bush, London. The venue was close to many hotels and travel connections that allowed it to become an easy hub of fan activity, with fans even dubbing the queue as Pidgen Panic Zone, due to the surprisingly large number of birds preying on the crowd. The event played host to a huge number of improvements including a more stable webcam video, improved sound equipment and a much more professional looking space.
It was the biggest the show had been to that date, bringing in nine hundred people plus to enjoy a fantastic celebration of Sonic's adventures to date that at one point before the doors opened threatened to bring the entire Shepherd's Bush area to a standstill by the sheer mass of humanity. As well as the returning Nigel Dobbyn from the UK based Fleetway comic series we had our first special guests from overseas this year, with Sonic Team itself representing in the form of composer extraordinaire Jun Senoue. Senoue, who performed a special set of classic tunes on his famous Sonic Adventure guitar and a keyboard for everyone also teamed up with American friend and musical partner Johnny Gioeli to fulfill many a fan's dream and headline the event as rock band Crush 40 giving a one-hour live performance that with Sonic himself playing air guitar in the background brought the house down.
SEGA of course were in attendance and E3 demos of the unreleased Sonic 4: Episode 1 and Sonic Colours on Wii and DS were on display – there was also a Sonic & Sega All Stars Racing tournament taking place. Whilst attendees were truly spoilt as Archie sent over free comics for eveybody and First 4 Figures, in to show off their brand new Super Sonic statue to people for the first time, SEGA also gave the first 500 people a free 2″ Metal Sonic figure. Nintendo themselves even braved the pro-SEGA throng to get people's views on Sonic Colours.
2011: YEAR FOUR
2011 saw the mammoth 20th Anniversary of our beloved hedgehog, and we all knew it had to be a big one. The event was moved to the Camden Centre, Kings Cross as it was more central than the previous venue and key guests were locked down as early as humanly possible. This year also saw rise to SEGA America's sister event, Sonic Boom, and the upcoming release of Sonic Generations so the pressure was on to deliver a truly amazing event worth turning out for.
For our special guests we had Takashi Iizuka (Sonic Team Director and Producer), Yuji Naka (Commonly referred to as the "Father of Sonic"), Jun Senoue (Sonic Team, Musician), Julien-K ("This Machine" and "Waking Up"), Tracy Yardley (Archie Comics), Ian Flynn (Archie Comics), Nigel Kitching (Fleetway Comics) and Nigel Dobbyn (Fleetway Comics). Successfully pulling in big names from America and Japan was extraordinary, with each guest genuinely impressed with the quality and atmosphere at the event. Tickets sold out in three hours, and we still over-filled our 900 person capacity, with additional visitors queuing in a literal square around the block. Never before had we seen such a manic turnout.
In addition to the mass turnout by fans to attend, so was the efforts of the ever-present Sonic fan community. We had vocal performances by Ziggy 'Zonic' Newman and Kati 'Shadowgirl' Katsaros, a stand-up comedy act by Rory 'Roareye' Joscelyne, a special Live-DJ session called Club Sonic, artwork by Lynne 'TRiPPY' Triplett and Li 'Syaming-Li' Shanghanoo and a variety of artwork and textile-based art from Donna 'Tavington' Evans. This coupled with the usual Cosplay event, artwork wall and ever-improving online-webcam connections allowed us to create an event that truly stood out.
2012: YEAR FIVE
So here we are, at this year's event. To celebrate our 5th Anniversary, we've moved to the seaside town of Brighton so we can all celebrate in style. It's been a long five years, we've had to tackle much to get the event the recognition it has now earned. We have many people to thank, many volunteers who have helped along the way and SEGA for being so supportive. We hope you have a blast at this year's event, and we look forward to seeing all of you in the future.
To see more on this year's event, check the links at the top of this page.